The Refund Receipt is available for Clover and Stripe merchants connected to QuickBooks Online. This feature creates a Receipt in QuickBooks online plus the relevant Payment Method of the refund, as well as the Clearing Account from which the refund is to be subtracted. Appropriate references back to Clover Orders and Stripe Charges are also provided. All this applies whether the refund occurred: 
On the same day of the sale (same-day) 
On a day after the sale (subsequent-day)
For the full amount of the original sale (full refund)
For an amount less than that of the original sale (partial refund, including "split refunds")
The Refund Receipt will balance the Chart of Accounts in a way that Credit Memos transferred by Commerce Sync in the past did not.
Additional Stripe Enhancements
As part of Refund Receipt QuickBooks Online support, Commerce Sync will transfer both same-day and subsequent-day refunds - whether full or partial - separate from sales information. Here is an example subsequent-day partial Stripe refund:
Additional Clover Enhancements
With Refund Receipt the transfer of same-day refunds are separate from sales. For our Sales by Category users with full Refunds (i.e., covering the entire Clover order), any Category or Label information transferred with the original Order will also be transferred on the Refund. Here is an example Refund Receipt with the Clover Category information: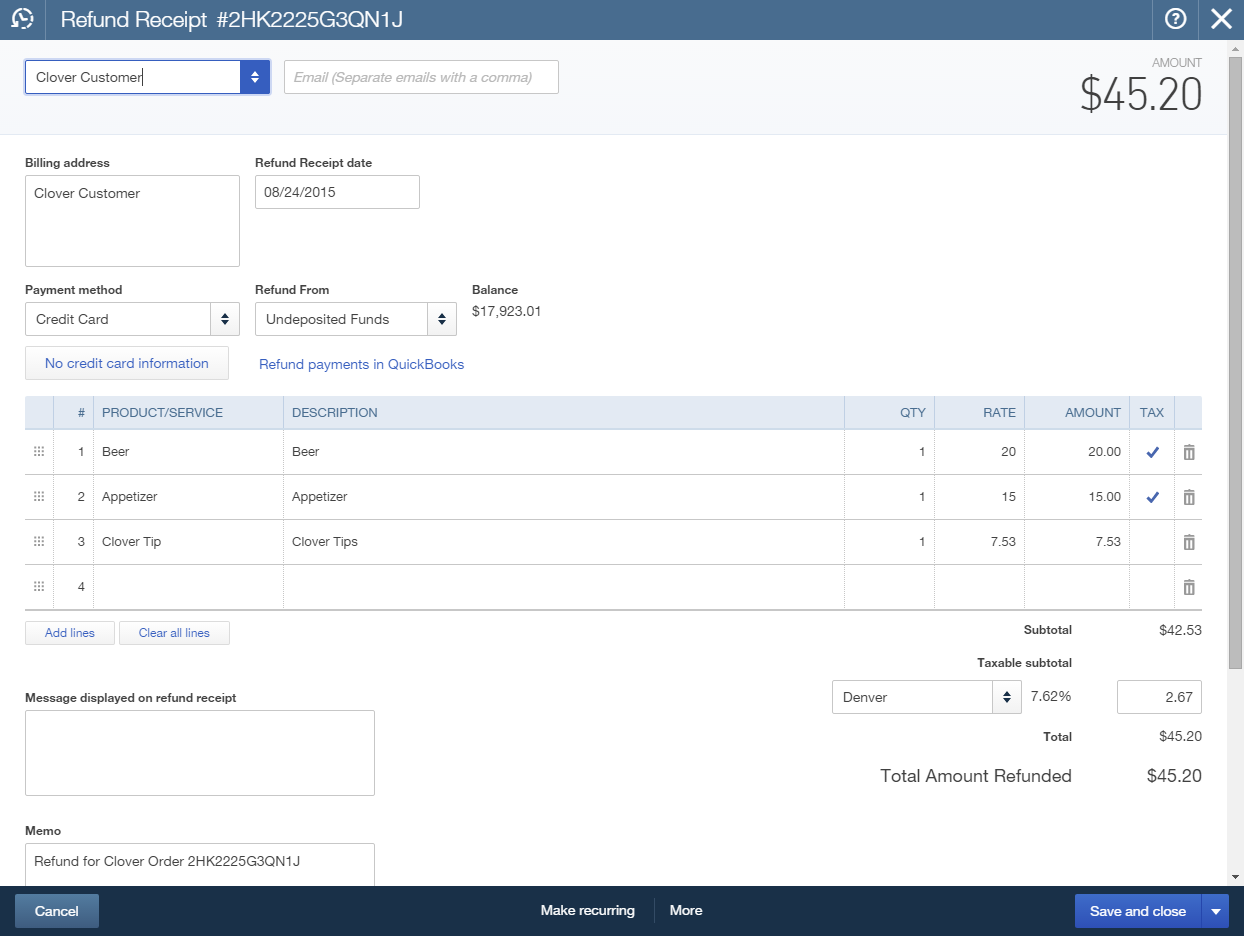 And More
Commerce Sync businesses who already use the optional Refunds feature may have noticed two other differences in the screenshots above. As of September 1st: 
Settings previously referred to as "Credits and Returns" will now be referred to as "Refunds." For example, the default (negative) income Account for Clover will be "Clover Refunds." Of course, you can change this at any time, and existing users are not affected by this change.
All Refunds will be transferred individually, rather than rolling up multiple refunds in a day into a "Credit Summary."