These are the steps to install multiple locations within the same Point of Sale (Square, Clover, and Stripe) If you are installing another location from a different Point of Sale, follow the installation steps in our Getting Started Section for that Point of Sale.
On the computer where you have QuickBooks installed, open the company file that you want Commerce Sync to transfer into.
Open the Commerce Sync for Desktop app.

Click on the plus sign to add another location.

Make sure you have the correct QuickBooks account file open that you want Commerce Sync to send the data to. Also, make sure that you are signed in as Admin and Single-User mode during the connection process.
You will log into your Point of Sale account again, select the correct location/store and select the Commerce Sync app on your Home Page at this point.
It will prompt you to log into your Clover account again.
Find the next location in the drop-down in the upper left-hand corner.

Find the Commerce Sync app again in the Clover account. (QuickBooks By Commerce Sync)

Go to Step #6
It will open a window and you will select the next location you want to connect to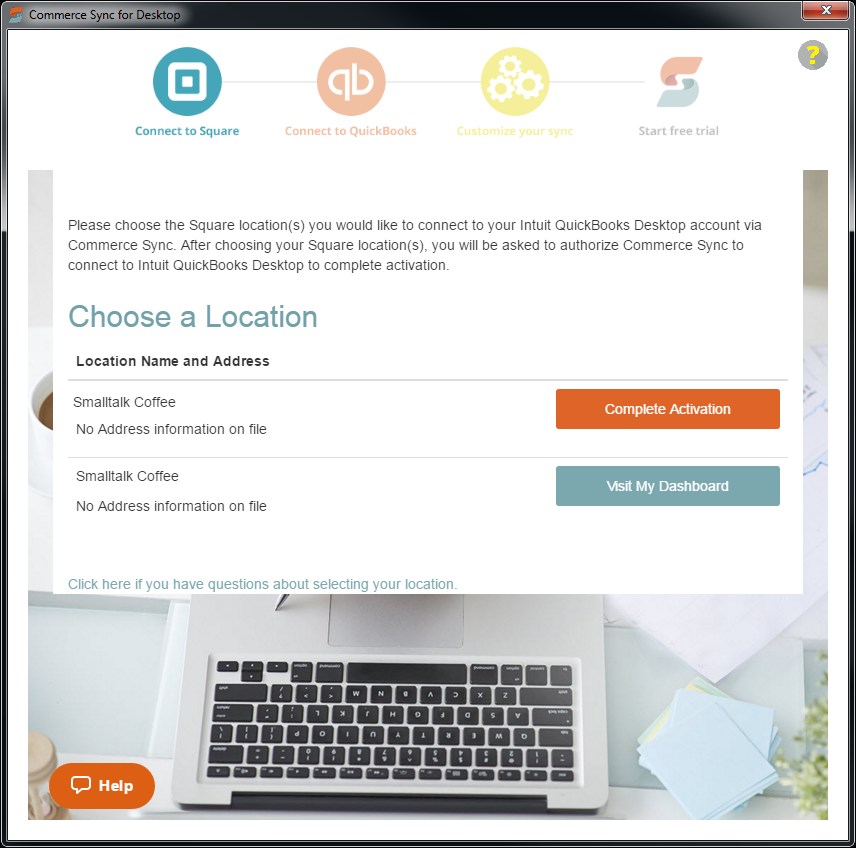 Open the Commerce Sync dashboard for your Stripe account
Select the QuickBooks Desktop download option
Once the new Exe file is installed, double click the Exe icon to open the app (this may flash, but it won't display the install window or steps
Click the + (add location) option on the Commerce Sync for Desktop application that you already have running (Step 3 above)
Double-check that you have QuickBooks open and the correct company file and click
Select whether you would like sales transferred into a Single Income Account or Sales by Category (Clover and Square only.)
6. Click Complete My Activation.
7. Then click Visit my Dashboard to open the Commerce Sync for Desktop app up immediately and waiting for the sync to complete. The green arrows will stop spinning and the next sync timestamp will be showing.
The Commerce Sync for Desktop app will take some time to connect and get familiar with your QuickBooks company file. You'll know everything is ready with the green arrows to stop spinning for this location. Open or refresh the Commerce Sync app from your Point of Sale and double-check your settings.
Commerce Sync will now start transferring for this new location. If you'd like previous sales information transferred for these locations, take a look at our Historical Transfer Request Form.
multistore, multi store